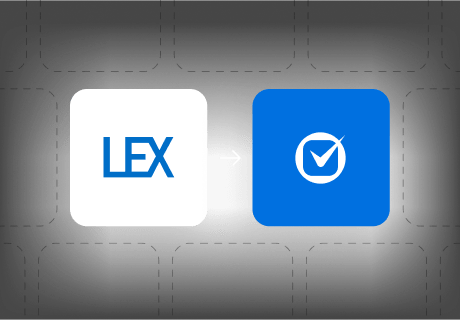 Clio
.
Client intake synced to your Clio account.
How it works
How it works
.
When LEX Reception and Clio join forces, a powerful partnership keeps
your database of client intake, case data, client documents, billing,
and appointments up-to-date automatically.
Trigger
New message
Your LEX receptionist answers your call and takes a message.
Action
New activity
A new activity is created.
Why integrate LEX Reception and Clio?
Choose your integration

Find the Clio integration under Advanced Settings in your LEX app.

Log in to activate

Activate your integration by logging in with Clio - our team will guide you through.

Get your time back

You're good to go. Clio and LEX Reception are now working together giving you more time for what matters.
Activate your integration
Book an appointment with the team today to add an integration to your LEX account.
Book an appointment
Giving More Time
.
LEX Reception is giving back 1% monthly to global conservation
projects, meaning your firm will help support endangered
species around the world.