Providing personal support and answering
.
Emotions can run high in family law cases, and your potential clients need a personal service. We listen to every caller with care and empathy to help you build relationships and retain more clients.
Family lawyer answering service
Benefits of an answering
service for family law attorneys
.
Balancing your casework and meetings with opposing parties can be challenging. Adding in new client
retention is even harder.
Our reception team is here to help you intake clients and build positive relationships.
Stand out with live chat
.
Potential clients find live chat options really useful. Answering questions via live chat can be a shortcut to securing new clients.
LEX receptionists can answer your incoming live chats to gather potential new client data and even schedule consults. When clients know they can reach out at any time for a quick answer, they feel more supported by your firm.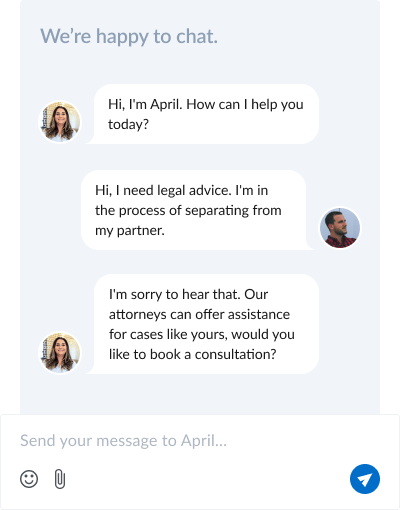 FAQs
.
A family law answering service is a team of professional receptionists which supports a family law practice with call answering, client intake, scheduling consults - and more.

LEX Reception is dedicated to legal. We work with family law firms every day to save them time and build strong client relationships.

Once you sign up for our answering service, we can immediately begin to answer your calls and take messages.

On your onboarding call, we will customize your account and scripts, setting up rules for call forwarding and streamlining your intake questions. We can also add calendar software, web chat answering, and CRM integrations for no extra cost.

Our receptionists are chosen based on their quality, not location. This means we can hire the best, not just the best around. Your firm is our priority, we work to understand your challenges and align our tone.

Our legal virtual receptionists are all highly trained and professional - but most of all, they're warm and empathetic! Most people will call your practice in a time of crisis, and a friendly voice on the line makes all the difference.