Live chat isn't something many firms think they need. A 2020 ABA study found that only 5% of law firms used live chat on their site.
The complexity of many cases means that lawyers prefer to handle inquiries by phone, and it's true that the majority of clients prefer to contact an attorney by phone. However, 90% of US consumers find live chat options useful, meaning practices that fail to take advantage of this miss this huge opportunity to stand out (FindLaw, 2014).
What's the benefit of live chat for law firms?
Live chat might not be the right technology solution for every firm. But it should be considered by every firm looking to improve their lead generation, conversion, or client retention. Live chat can do a lot for firms of any size.
Show yourself to be approachable. If a potential client just wants one question answered, the experience can be made much smoother through a chat widget. A chat widget can even bring in leads who you might not have heard from before.
Increase your chance of being the first to respond. You might have heard of anchoring bias – how the first thing we see or experience sets our expectations for the future – and this is true of law firms. Many first-time clients don't know what to expect from a firm. If you can provide an instant answer to a question from a prospect, this will leave an excellent impression and leave them disappointed in other firms who may take longer to respond.
Improve accessibility for different clients. A phone call doesn't suit everyone, and for some, messaging a live person feels less intimidating than a phone call. Live chat can be particularly beneficial to clients with English as a second language, who may find typing an easier way to communicate.
Help you to gather more metrics. You can find a deeper understanding of your site and traffic as many live chat widgets come with analytics. You can see which pages lead people to ask questions and how long they spend on your site.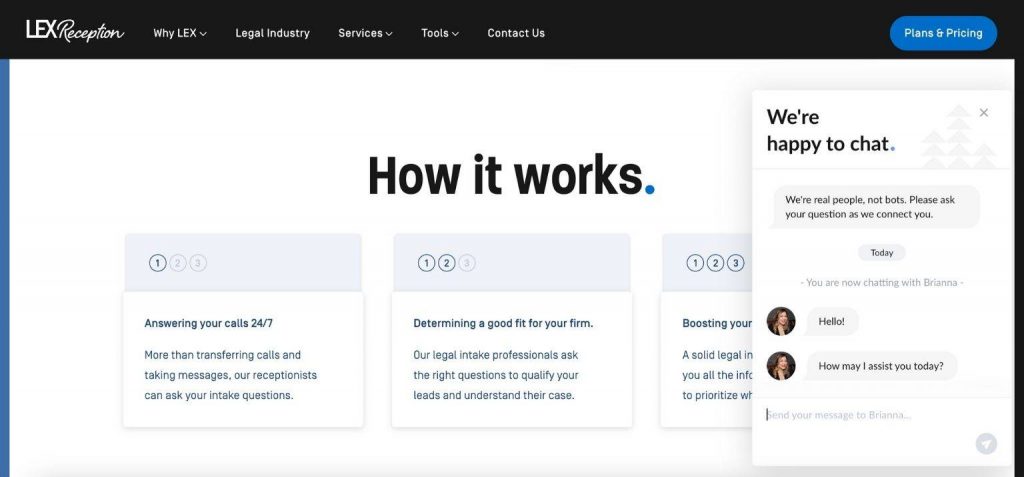 How can your practice use live chat well?
Step 1.
Make sure you answer quickly. Technology has taught us all to expect speed, especially in response times. Customers will expect a response within one minute from a live chat box, but under 30-seconds is the gold standard. In 2011, no law firms answered a live chat on their website within 30 seconds (FindLaw 2014 study).
Step 2.
Have a real person answering your live chat questions. Even the best chatbot has severe limitations, and if a potential client has a question they cannot find the answer to, they are more likely to leave the site than continue to seek out the information.
"You have a lot of choice in how your live chats are answered. Many widgets allow you to manage your chats in-house, and this can be a way to connect with clients, especially if you have staff who are experienced in customer service. Or you can choose a virtual receptionist service that includes live chat and relax in the knowledge that your chats are being handled 24/7 by professionals. Some firms use a combination of the two, trusting chats to their staff during office hours and passing over to their chat support service after-hours."

Channon, LEX Lead Client Account Manager
Step 3.
Gather their contact information as soon as possible. Many leads who use a live chatbox will be at the very start of their journey to hiring a lawyer. By following up a live chat with a phone call or email, you cement yourself in their memory, making them more likely to return to you when they make the decision to hire.
Step 4.
Review your live chat messages and discover gaps in your website content. People tend to turn to live chat when they cannot easily find the answer on-site, and this gives you essential insights into your website experience. Live chats give you the opportunity to add frequently asked questions, optimize your site, and streamline your client journey.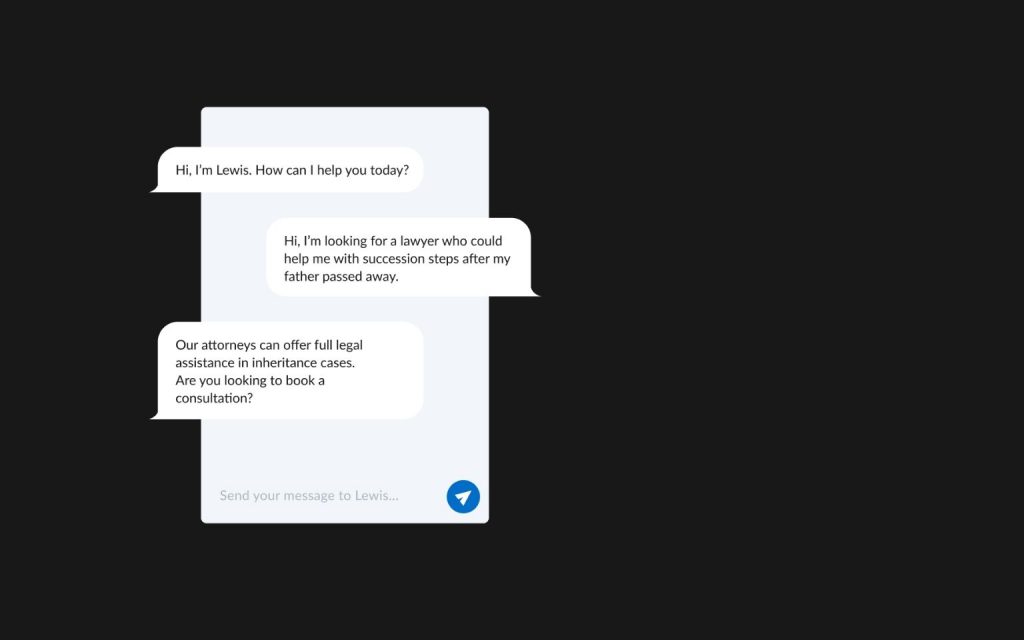 How do you add a chatbox to your website?
It couldn't be easier to add live chat to your website. Each provider will have their own custom piece of code, which they will send to you and help you add to the relevant part of your website.
As soon as this has been added, you're ready to go! Most live chat widgets will give you personalization options, allowing you to change the color, icon, and welcome message which anyone will see when they click on your widget.
Creating custom chat scripts is a great way to ensure consistency. A good chat script should also give website visitors an idea of your firm's personality – think of it as a glimpse into how your communication will continue. If they like your communication style, they are more likely to become a satisfied client in the future.
Conclusion
Live chat is just one of the many tools that firms can use to reach new clients and improve the client experience at every stage. 79% of businesses in the US say live web chat services improved sales, revenue, and customer loyalty (Kayako). By staying ahead of the curve and widening the potential communication channels, firms can help to establish new audiences.

Are you looking for a flexible live chat provider for your law firm? LEX Reception's virtual receptionists handle live chat for law firms every day, helping you convert web visitors to paying clients. Learn more about our live chat options.